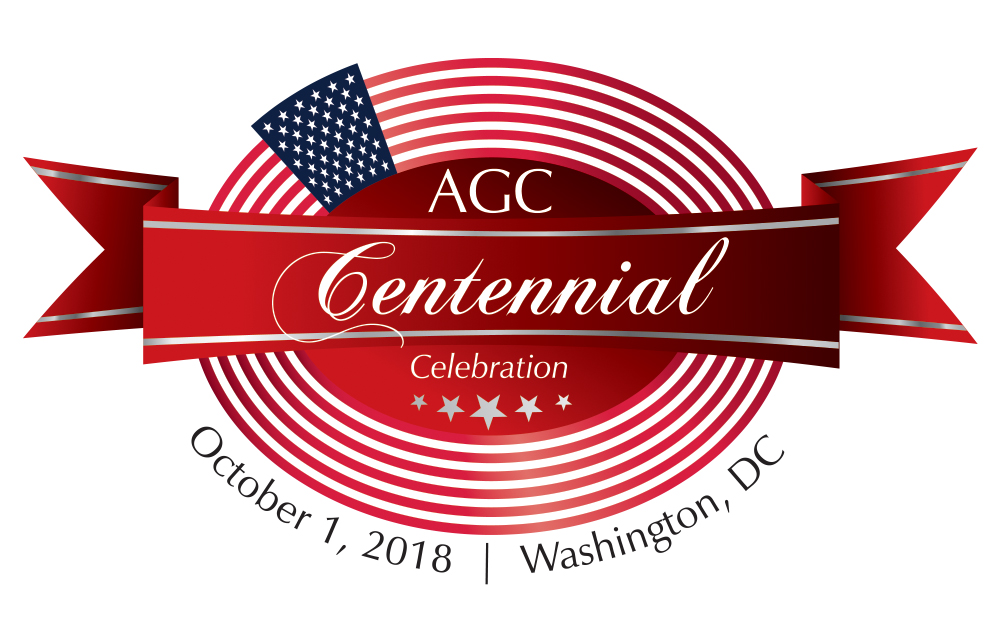 AGC Centennial Celebration  SOLD OUT
Reagan Building and International Trade Center
October 1, 2018 Washington, DC

On October 1, 2018, AGC will officially honor and celebrate 100 years of our association's efforts and successes with an afternoon and evening of Centennial-focused events to be held at the Ronald Reagan Building and International Trade Center in Washington, DC.
Please join us for this momentous occasion to help us recognize and celebrate 100 years of achievements, as well as look ahead to the next century of serving the industry.
All activities will take place at the Ronald Reagan Building and International Trade Center located at 1300 Pennsylvania Ave NW, Washington, DC 20004 (Map).
Schedule Oct 1st
PRE-EVENT:
4:30 PM-6:00 PM — Association Update, RRB Amphitheatre – use the Pennsylvania Ave entrance – Separate registration required – limited seating – FULL
CENTENNIAL CELEBRATION:
6:00 PM-7:15 PM — Reception and Presentation, RRB Atrium – use the 14th Street entrance
7:15 PM-8:15 PM — Dinner, RRB Atrium Ballroom or Hall
8:15 PM-10:30 PM — After Party with Dessert and Dancing, RRB Atrium
Badge Pick Up and Information Desk
Monday, Oct 1 – Ronald Reagan Building and International Trade Center
–3:00 PM-5:30 PM, Amphitheater Foyer, Pennsylvania Ave, Entrance
–5:45 PM-8:30 PM, Atrium Foyer, 14th St Entrance
Joint Contractors Conference attendees may also pick up Centennial Celebration Badges at the Crystal Gateway Marriott, Grand Ballroom Foyer
–Saturday, Sept 29 from 11:00 AM 5:00 PM
–Sunday, Sept 30 from 7:00 AM-5:00 PM
–Monday, Oct 1 from 7:00 AM-1:00 PM
Additional Details
Attire: The suggested dress for the Centennial reception and dinner is business/cocktail attire.
Security: The Ronald Reagan Building is a high security building. Upon arrival, proceed as directed through the security checkpoints. All guests and their belongings must pass thru a magnetron, just like you do at the airport.
Transportation Options:

JW Marriott Washington D.C./Willard Intercontinental – Walkable from hotels – contact AGC if assistance required

5:15 PM General shuttle service begins for Centennial Reception & Dinner
8:45 PM General shuttle service begins back to Crystal Gateway Marriott

Metro – The Federal Triangle Metro Station (orange/blue/silver lines) is located on-site and is connected to the building by covered passageway. The Metro Center Metro Station (red line) is located just two blocks away
Parking – Parking is available at the Ronald Reagan Building – RBB Parking Information
Dinner Seating – Table information for seating assignments will be listed on each attendee's individual event badge. We will have table charts and ushers on hand to direct people to their table. For anyone that does not have a specific table assignment on their badge, there will be open seating at any non-reserved/non-sponsored tables.
If you have any additional questions, please contact the AGC meetings department at 703-837-5399 or sara.ahmed@agc.org.